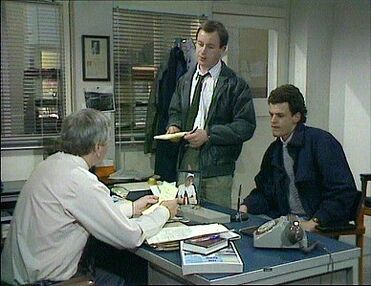 Kenny Forfar
was a friend of DS
Peter Livingstone
who first appeared as a detective in
Knife Edge
. Kenny and
Jim Taggart
got on well at the start. In
Death Call
Forfar was so convinced that Jamie McCormack was the murderer that he rigged evidence. When Jim found out about it Kenny was suspended from the case and presumably lost his job due to misconduct. He said goodbye to Peter and left. He was then seen again in
Funeral Rites
when he was working for a private detective called Douglas Abbernathy. He met Michael Jardine and aided him when he got beaten up. Kenny was later arrested and thrown in a cell of his own, by Jim Taggart and
Michael Jardine, he hadn't committed a crime at the time but Jardine pretended not to know him to vouch for him being a private detective as a payback for his previous unethical dealings when he was a policeman. He was never seen again after that episode.
Ad blocker interference detected!
Wikia is a free-to-use site that makes money from advertising. We have a modified experience for viewers using ad blockers

Wikia is not accessible if you've made further modifications. Remove the custom ad blocker rule(s) and the page will load as expected.